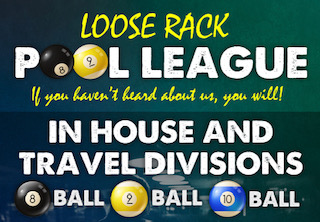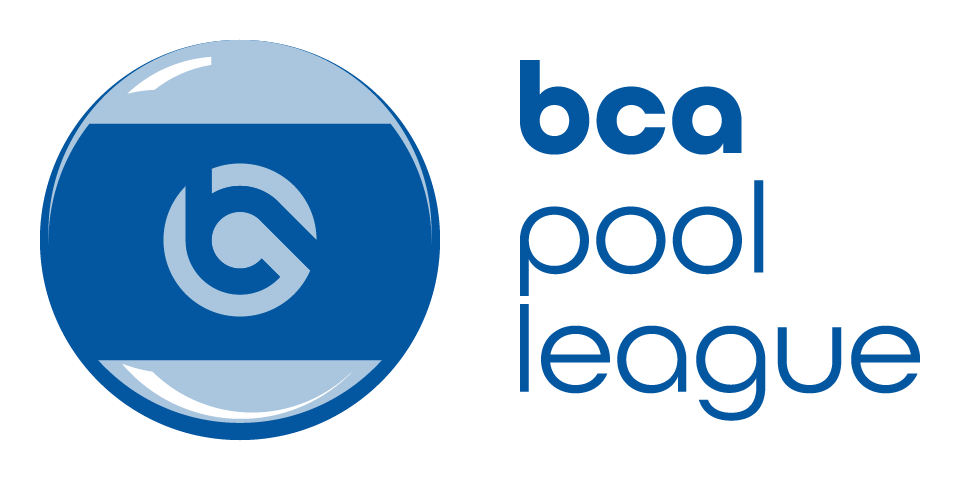 Loose Rack Pool League is our house league. All players are members and sanctioned by BCA Pool League. We have grown from 30 to 200 members in our first year of operating.
We expanded to travel to accommodate our whole pool-playing community. We are able to create customizable-divisions based on your format preferences.
This league follows the official rules of BCAPL & CueSports International.
Registration is open for the following divisions:
SUNDAY DIVISIONS
Sunday Cruise Division:
Loose Rack Billiards Inhouse
In Session / registering new teams
8 and 9-ball
3-player team- up to 5 on your roster
$10/person
Point Money Awarded
MONDAY DIVISIONS
Hideaway In-House Division:
Windham, Oh 8-Ball
3 play/ 5 on roster ∙ 8, 9, & 10-ball ∙ Cash Division
Spring session coming soon
Newton Falls Travel Division:
Newton Falls, Oh area travel (Faces/ Chit Chat)
4 play/ 7 on roster ∙ 8 & 9-ball ∙ cash division ∙ travel
Spring session to begin January 3, 2022 7 pm
TUESDAY DIVISIONS
Loose Rack Billiards Area Travel:
4 core players /7 on roster ∙ 8 & 9-Ball ∙ Travel League
Spring session to begin January 6, 2023 @7 pm

Youngstown's South Side Division
Meeting December 15, 2022 @ Petri Club to discuss options for area travel division ($7/player)
*Point Money and tournament for travel assistance*
Spring session to being January 6, 2023 @ 7pm
Hideaway In-house 8-Ball:
Hideaway Bar Windham, OH
5-man team round-robin (5 core/3 sub)
$10 player


WEDNESDAY DIVISIONS
Loose Rack 9-ball In-House:
Loose Rack Billiards
Spring 2023 session begins Jan 4, 2023
5-man; up to 8 players on the roster
∙ Wednesdays @ 7pm ∙ Point money awarded ∙

Vista Lounge 8/9 In-House:
Spring 2023 session
Register @
Vista Lounge 1830 Donald, Youngstown, OH 44509 or Contact us for more information
The Vista Lounge runs an 8 & 9-ball inhouse division on Wednesday evenings at 7pm.
THURSDAY DIVISIONS
10-Ball Singles @ Loose Rack
Loose Rack Billiards
Scheduled matches play on 9' tables
Register now; will start Jan 2022.

Windham Thurs 9-ball
Hideaway Bar Windham, OH
5-man 9-ball teams
2 round robins - 10 games played each person!
SATURDAY DIVISIONS
Windham Ladies Nights:
Hideaway Bar Windham, OH
4-man 8-ball teams $10/player
round robin
2 weeks played at once (2nd and 4th Saturdays)
Coming Soon!
BCA POOL LEAGUE WORLD CHAMPIONSHIPS: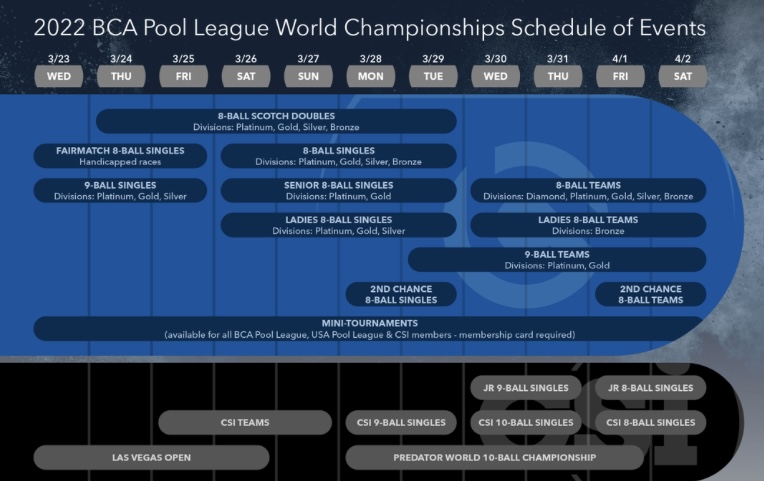 March 23 - April 4, 2022 BCAPL World Championship
∙ Player Guide ∙ Entry Form ∙ Rules ∙ Dress Code ∙ Register ∙
Early registration ends January 17, 2022
February 23 - March 4, 2023 BCAPL World Championship
February 21 - March 2, 2024 BCAPL World Championship
February 19 - March 1, 2025 BCAPL World Championship